We would like to give a huge THANK YOU to all of our past puppy families! Without all of you, we would not be what we are today! YOU are the reason that we continue to breed this wonderful and one of a kind breed!
We love to receive pictures of our past puppies and to hear about the experience you had with Never E'Nuff Bullies! If you would like to be added to our testimonial page, please feel free to send us your words and pictures of your baby and we would love to add you to this page! Thank you all so much for loving our babies and giving them such wonderful and forever homes! We love our extended families!
"Cinnabon"-Mr. Politic X YOLO Female
Owned by Robs Morgan
ABKC Champion "Sasha"-Manny X Free Female
Now Owned by Sarah Roach
"Denny"-Manny X Tatiana Male
Living happily in Russia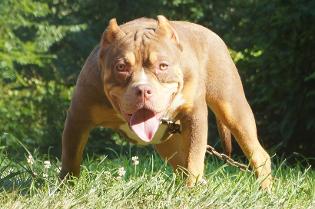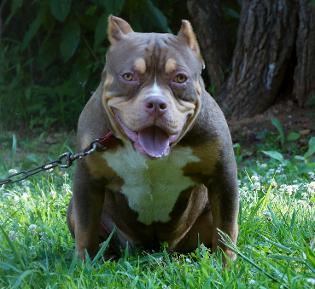 "KIT-KAT"-Manny X YOLO Female
Photo credit given to us
Now owned by James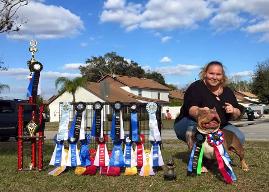 ABKC Champion "JACK"-Manny X YOLO Male
Owned by Kris Curella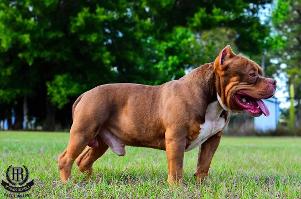 ABKC Champion "CHARLIE"-Manny X YOLO-Male
Owned by Angie Quirello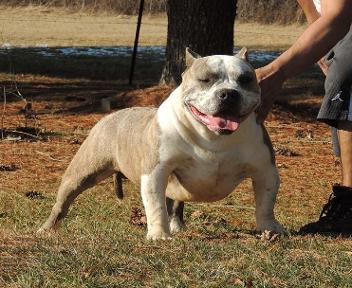 Pudge X Hemi Male-Pictured at 9 months old
Owned by Karina Gonzalez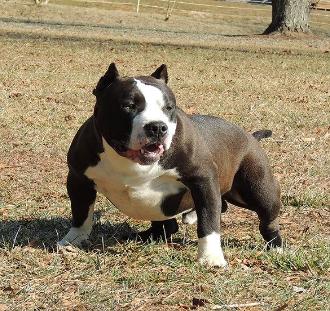 Pudge X Hemi Male-Pictured at 9 months old
Owned by Karina Gonzalez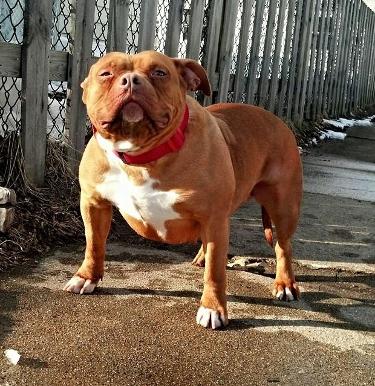 "AILANI"-Cyserro X Free Female
Owned by Maria Rodriguez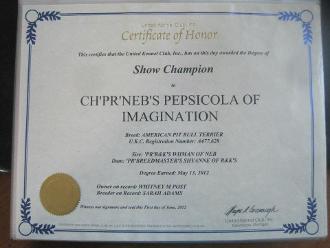 UKC CHAMPION "PEPSI"-Wiiman X Shyanne
Owned by Whitney Post
"DIAMOND"-Cheech X Angel
Owned by Tabbitha Heckman
While looking for a Blue Tri female American Bully, I came across Sarah. My experience with her was amazing from the first time we spoke. I was looking for a female to add to our Show Program but was unable to see the pups in person due to the distance between my location and her's. I told Sarah exactly what I was looking for in a puppy and she provided me pictures of her available pups that met my criteria. Not only did she provide pictures, but she provided me Honest feedback regarding each puppy and the qualities they had for my program. I placed a deposit and worked out a payment arrangement with Sarah for a puppy. Once I had paid in full she arranged ground shipping with a gentleman who took GREAT care with my puppy to assure she was well cared for during transport to my home in Michigan. When Diamond arrived here to me she was happy, spunky and looked amazing - she was exactly what Sarah promised me she would be regarding personality and structure. We took Diamond for a vet check after her arrival and she was given a clean bill of health. Throughout the time we have owned diamond, Sarah has always been available to answer any questions we have had, she checked in frequently to assure everything was going good and that we didnt have any concerns. She also provided me with a genetic guarantee on Diamond. Diamond has grown into not only an amazing specimen for an American Bully, but a wonderful part of our family. We pride our-self's on being a Top Notch Breeding and Show Program and WILL be bringing in another addition into our family from Sarah at Never-Enuff-Bullies. Not only has her business attitude been exceptional from our first conversation, but the friendship we have formed based on dogs is greatly valued. PS - she is Great at keeping a puppy a secret - she helped me keep Diamond a surprise for my husband for WEEKS until she arrived her and my husband could not have been happier with his surprise!!!!
Tabbitha Heckman at Blue Titanic PitBulls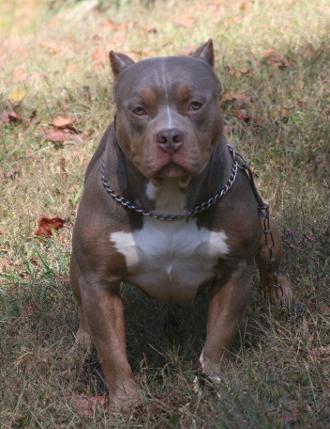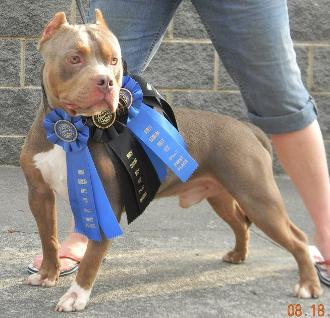 "GREMLIN"-Wiiman X Shyanne
Photo credit given to us
Now owned by Donald Green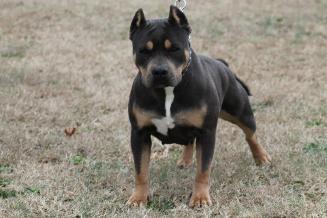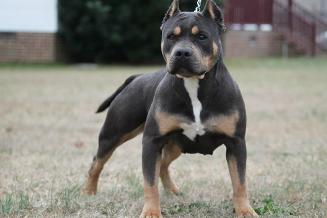 "VALENTINE"-Cheech X Angel
Owned by Nicholas Burris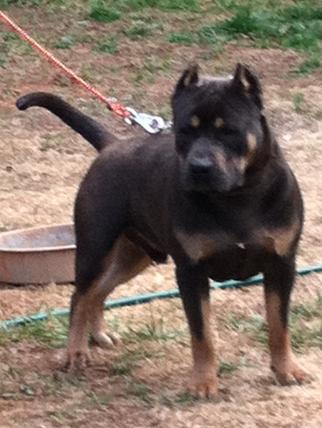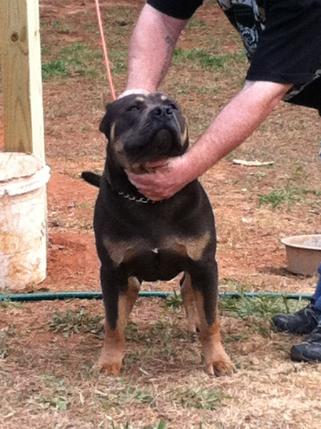 "BLADE"-Cheech X Angel
Owned by Jason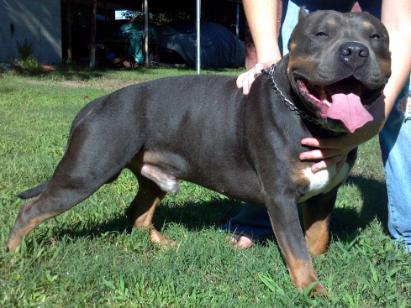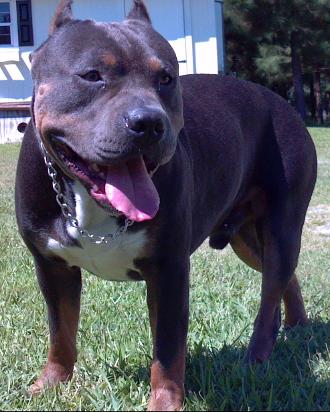 "JANK"-Cheech X Coffee-CO-PRODUCTION
Owned by Delow Brown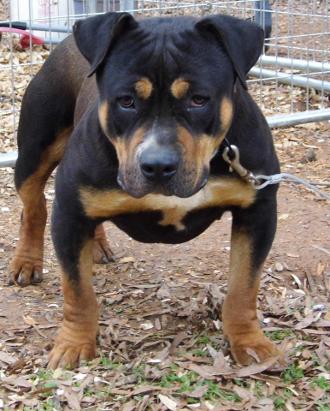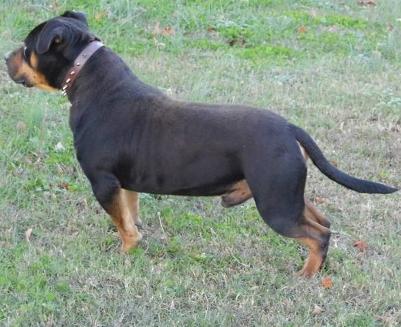 "BAWWSSE"-Cheech X Envy
Owned by Ashley Martin at Edge Kennel
I purchased a black tri male puppy (Bawwsse) from you in early 2012, I received my puppy in perfect health with shots up to date and health records from a certified veterinarian. Any questions I've had Sarah of Never E'Nuff Bullies has always been there to answer. My boy is approaching a year old and I'm extremely happy with the outcome of my dog and his structure/personality is just what I asked for in a puppy when we spoke. I can give nothing but 100% positive feedback and recommend people to Never E'Nuff Bullies.
Ashley Martin at Edge Kennel
"WIIMAN"-NOT PRODUCED BY US
My wife and I purchased our dog Wiiman from Never E'Nuff Bullies. He has truly been a good addition to our kennel. During the process of purchasing him Sarah provided us with plenty of pictures and information on him. She also kept us informed on shipping and we were very impressed with his physical state. Also all paperwork was provided right away with no hassle. We would surely recommend anyone to Never E'Nuff Bullies if they are looking for a bully.
Calvin Ray at Rays Knucklehead Kennel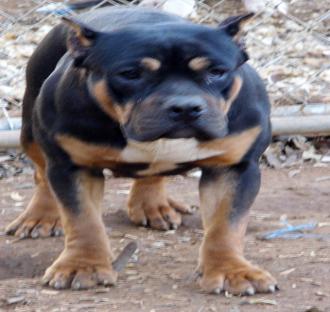 "KINKY"-Cheech X Envy
Living happily in Hawaii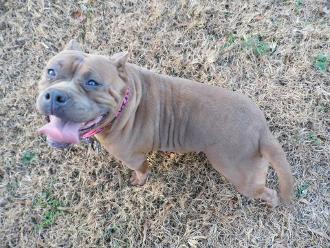 "TRAGEDY"-Cheech X Paris
Owned by Ashley Martin at Edge Kennel