Problem and Tic Tac puppies arrived June 17, 2018. We have lilac, chocolate, and blue puppies. ALL carry tan point, blue, and chocolate. Please check back for updates or contact us.
Problem and Fiona puppies arrived Jun 29, 2018. We have black and black brindle. All carry blue and tan point, and possibly chocolate. Please check back for updates or contact us.
Rocky and Fiona puppies are here! Born July 19, 2017! I just sent DNA off for the last two available puppies, one of which I am keeping. One is dark chocolate and the other lilac. Once DNA comes back I will post pictures of the available puppy.
Please check back or contact us!
Sweet Tooth and Mirage puppies were born March 19, 2018. These pups are showing incredible potential. They have gorgeous heads and tons of bone and body already. I have 1 female and 3 males.
1 FEMALE AVAILABLE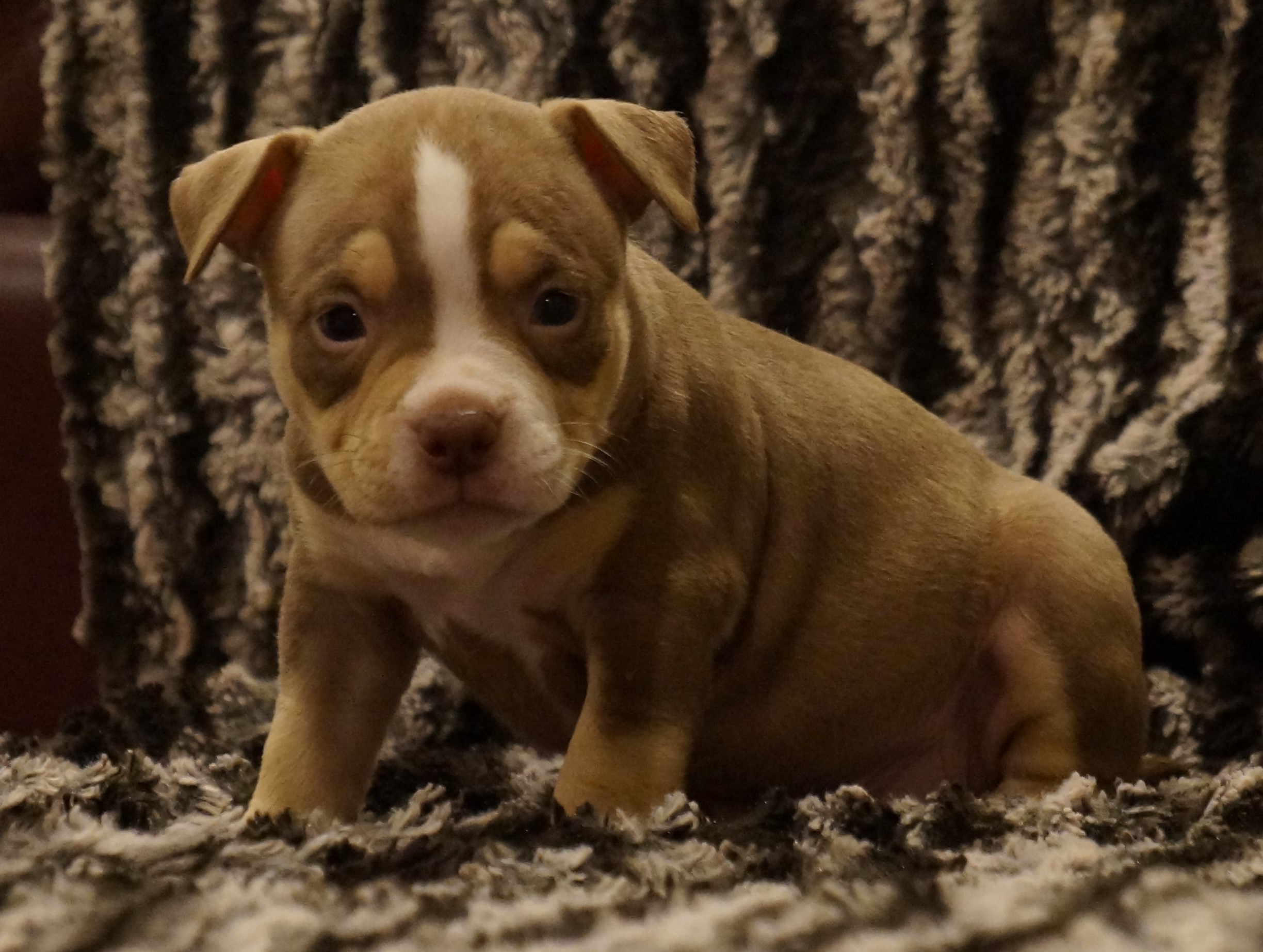 CHOCOLATE TRI FEMALE
AVAILABLE-$2000
ALL puppies will be UKC/AKC registered with either limited registration or full registration.
Puppies WILL NOT leave us until they are at least 8 weeks of age unless otherwise stated. NO EXCEPTIONS. All puppies will leave us up to date on their vaccines, be wormed accordingly, and be vet checked. Registration information, 1 year health guarentee, a sample of food your puppy is eating, and a sales contract will also be included with your puppy. Puppies will come prespoiled and socialized with other animals and children as well as come with a lifetime of breeder support.
We do offer both limited and full registrations. Show/breeding quality puppies will be offered on full registration while pet quality puppies will be offered on limited registration. Limited registration puppies will leave on a contract and must be spayed/neutered while full registration puppies will have full breeding/showing rights. ALL of our puppies will go to APPROVED homes ONLY.
We do have the right to refuse sale of any puppy or adult belonging to Never E'Nuff Bullies to anyone for ANY reason! Please do your research and make sure that you are ready for an American Bully!
We do not sell to puppy mills or to anyone associated with these types of facilities.
We require a $500 NON-REFUNDABLE deposit for our puppies. We accept PayPal, Western Union, Money Gram at Walmart, and cash. When paying in full for the puppy at pick up, then the payment must be in cash ONLY. FINAL payment, if shipping, must be paid with Western Union or Money at Walmart.
Puppies MUST be paid for IN FULL at 8 weeks of age and be picked up by 9 weeks of age. I will NOT hold puppies after 8 weeks of age without full payment. NO EXCEPTIONS. If extra boarding is needed, each day after 9 weeks, a fee of $5 per day will be added. If puppy is waiting to be shipped, no fee will be added for boarding as my ground shipper sometimes cannot get here in short notice. If no payment has been recieved by 8 weeks of age, the puppy will be relisted for sale. As long as the puppy has been paid for IN FULL by 8 weeks of age, I will board the puppy an extra 4 weeks maximum, making the puppy 12 weeks of age. Each day I hold a puppy after 9 weeks of age is $5 per day. ANY puppy that has not been picked up by the age of 12 weeks will be relisted for sale. So, please make plans accordingly! I can make other arrangements, but please let me know AHEAD of time.
Please dont hesitate to email or call us if you have any questions!
We do have more breedings planned if you do not see something that you may be interested in. Please see the breedings page for more information. There are still several openings on our waiting lists. Contact us via email or phone for more information on upcoming litters.
Thank you for your interest.
Picks of each litter are on a first come, first served basis. Here at Never E'Nuff Bullies, we do not choose which puppy is first pick for you. We allow you to choose! Therefore, if you put down a deposit before anyone else, then you get exactly what you want (your "first" pick). Because of this, even if you put your money down after someone else, they may not choose the puppy that you would consider "first" pick. You still get what YOU want!